23 March 2022
LAND SECURED FOR NEW STOCKLAND HALCYON COMMUNITY AT ST.GERMAIN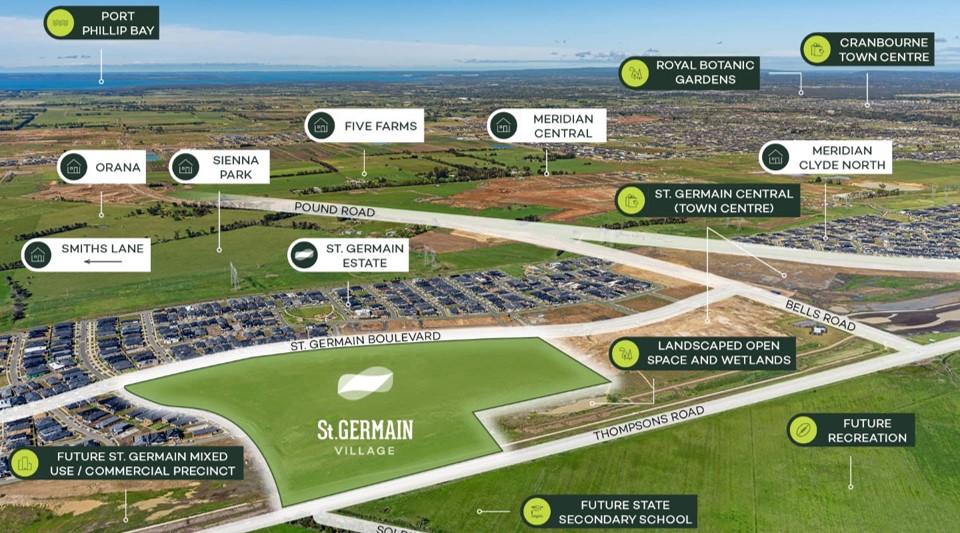 Exciting news for the St.Germain community! Stockland has purchased 13.15 hectares of land at St.Germain with plans to build a Land Lease Community (LLC).
The development will sit within Stockland's Halcyon Communities portfolio, which for more than 17 years has been transforming over 50s living, winning more than 24 industry awards.
The Stockland Halycon Community will feature approximately 278 dwellings, including a clubhouse and recreation facilities, and will sit opposite our St.Germain Town Centre.
Kingsley Andrew, Executive General Manager of Land Lease Communities at Stockland said, "the strategic acquisition adds to Stockland's pipeline of approximately 9,000 LLC home sites across Australia.
With the Clyde North market experiencing growing buyer demand and solid pricing expectations, the established St.Germain Estate will provide a perfect opportunity for a Stockland Halcyon Community in this growth corridor, with easy access to Melbourne."
Stockland Halcyon has two LLC projects in close proximity to the proposed community, including Stockland Halcyon Minta in Berwick (under development) and Stockland Halcyon Evergreen in Clyde (in planning).
The LLC model allows customers to purchase their new home outright with no entry or exit fees and pay a site rental fee which covers council rates and includes access to modern community facilities for all homeowners.
"There is an estimated target population of around 87,000 people aged over 50 within a 15km radius of the proposed community. With several other Retirement Living and LLC communities in the area, we believe there is an excellent opportunity to create a thriving LLC community that becomes part of the fabric of Clyde North.
Our land lease communities offer our residents an active lifestyle in a quality community with access to great recreational facilities", said Mr Andrew.
Construction is anticipated to commence as early as 2023. For more information on Stockland Halcyon, including updates as the community evolves, visit www.lifebeginsathalcyon.com.au