7 June 2023
ST.GERMAIN JUNE CONSTRUCTION UPDATE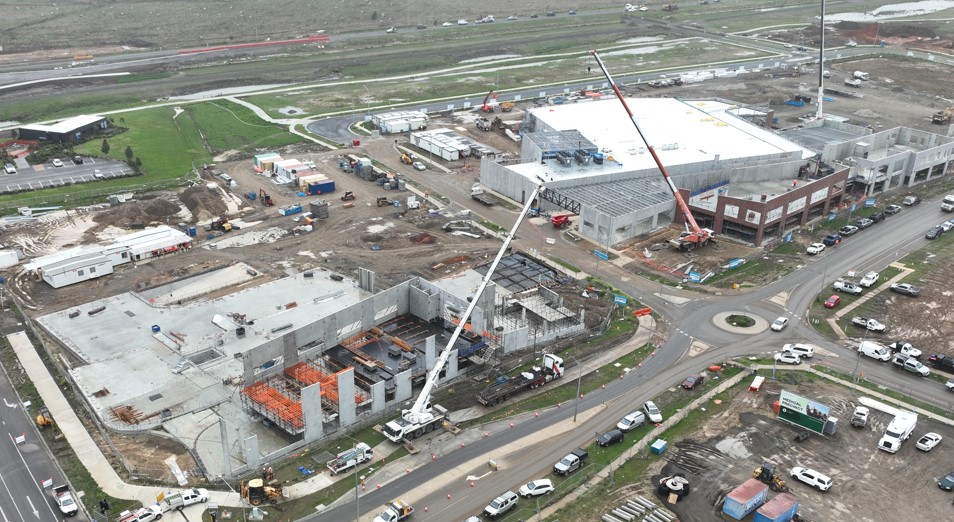 The new Retail and Medical and Wellness Precincts at St.Germain Clyde North are progressing well!
During the month of May, the Hutchinson site team completed the installation of the Kingspan roof over Coles, including the retail loading dock, Liquorland and the Mall adjacent to the Coles roller door entrance.  Coles fit-out is currently at the framing stage and all of the concrete and precast structural works for the retail building are now complete.  Retail 2B slab-on-ground and precast panel installations have also been completed.  June will see the completion of the retail structural steel and installation of roofing to all tenancies.

The Medical and Wellness Precinct works progress included the completion of all ground floor slabs, with the formwork for the Level 1 slab being installed. The formwork to the north of the basement is currently being stripped, with the southern basement formwork remaining as back-propping until the Level 1 slab is cured.  During June Hutchinson's will be working toward the completion of the concrete structure and precast panels for all tenancies within the Precinct.

Works on the entrance to the St.Germain community also remain on track, with planned major intersection and infrastructure improvement works requiring the Bells and Thompsons Roads, and Bells Rd and St.Germain Boulevard intersections, to be closed from 13 June 2023, for a period of approximately 2 weeks.
Traffic wishing to enter/exit the St.Germain Estate will be detoured via Smiths Lane (see Detour Map below).

As always, we ask that you please remain vigilant during this time and follow all traffic management and reduced speed signs on display, thus ensuring the safety of all whilst travelling in these areas.
Stage 26 along St.Germain Boulevard is progressing well, with over 50% of townhomes settled with their new homeowners now moved in. Stage 22 has now achieved Statement of Compliance and the Plan of Subdivision will now be submitted to the Land Registry Office for Titles. Other residential stages are progressing well with tasks such as civil earthworks, concrete laying and bitumen on roads well underway.
We thank you for your continued support and please be sure to contact us if you have any questions or concerns. In the meantime, if you'd like to learn more about the retail, commercial and medical opportunities now available, please complete the Enquiry Form and our team will be in touch to assist with your query!